Colistimethate for Injection USP
| Generic Name | Colistimethate for Injection USP |
| --- | --- |
| Brand Reference | Colymycin M® |
| DIN | 02244849 |
| GTIN | 834324000022 |
| Strength | 150 mg |
| Format | Vial |
| Pack Size | 1 |
| Therapeutic Class | Antibiotic |
| Product Insert | Click Here |
| Product Monograph | Click Here |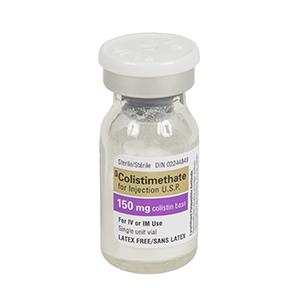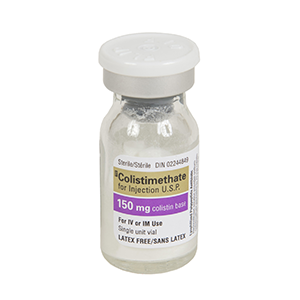 Item Codes
| SteriMax: | ST-00200 |
| --- | --- |
| McKesson: | 646794 |
| K&F: | 29365 |
| Jean Coutu: | 753509 |
| McMahon: | 10059233 |
| Familiprix: | 267666 |
| SDM: | 834324000022 |
| Unipharm: | 00581017 |

 Latex Free Stopper

Preservative Free
| Provincial Formulary Coverage | ✓:Listed | P:Pending | I:Interchangeable Only |
| --- | --- | --- | --- |
| BC | AB | SK | MB | ON | QC | NB | PE | NS | NL |
| --- | --- | --- | --- | --- | --- | --- | --- | --- | --- |
| ✓ | ✓ | N/A | N/A | N/A | ✓ | ✓ | N/A | N/A | N/A |
Product Description
Colistimethate for Injection USP should be considered for the treatment of severe acute or resistant chronic infections due to colistin sensitive strains of gramnegative pathogenic bacilli.
It is particularly indicated when the infection is caused by sensitive strains of Pseudomonas aeruginosa. Colistimethate for Injection USP has been clinically effective in the treatment of some infections due to the following gram-negative organisms: Aerobacter aerogenes, Escherichia coli, Klebsiella pneumoniae and Pseudomonas aeruginosa.
This antibiotic is not indicated for infections due to Proteus or Neisseria organisms.